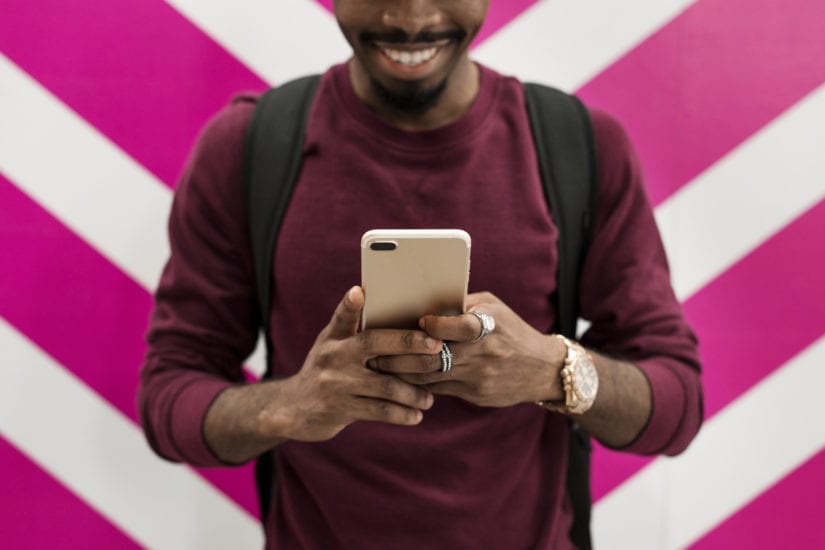 It takes 50 milliseconds for users to form an opinion about your website. 94% of that first impression is based on web design.
According to a 2018 Nielsen report, the average American spends more than 11 hours a day on the internet1. If you are like most Americans- which, let's be honest, you probably are- this means you spend almost half your day interacting with websites or digital media of some form and making split-second choices about which websites you like, which ones you trust, and which ones you will visit again. So why do we make the decisions that we do?
It takes 50 milliseconds- or one-twentieth of a second- for users to form an opinion about your website.2 That is nearly instantaneous. In that fraction of a second, users are deciding if they like you, if they trust you, and if you have something relevant to offer. 94% of that first impression is based on web design.3
As a digital consumer, you know that all websites are not created equal. And as a business owner, you know that your website (and that trust) counts- and establishing that trust with a quality website pays off not just in reputation points, but in dollar signs.
There are three main ways you can build your company's website:
Drag-and-drop website creation platforms (Wix, Squarespace, Weebly)
Template-based content management systems (WordPress, Drupal, Joomla, etc.)
Custom-designed websites or templates tailored to your individual brand built by professional web designers or developers.
While open-source CMSs like WordPress have their uses, without a customized website specifically tailored to your business, you are missing out on critical benefits that make or break a user's millisecond-long first impression.
Your website is your storefront, your brand ambassador, your salesperson, and absolutely integral to your business itself.
No matter your business's age, industry, or size, a customized website offers you benefits cookie-cutter templates never can.

Uniqueness
With 644 million websites on the internet, yours should stand out
If you just started a business and need to set up a new website that will be competitive in your market, the first place you'd probably turn is WordPress. We all know about WordPress, and it's really-adaptable- but this is exactly the reason it's flawed.
With most content management systems (CMSs), you're generally given a pre-built theme. Each theme allows you to insert elements on a page in preset styles, creating the appearance of uniqueness, despite the fact that in actuality you are still stuck with the template's restrictions.
Even though you created this website with your brand in mind, it will still look invariably similar to the hundreds- or possibly thousands- of other websites with the same theme.
Custom-designed websites themes for WordPress or custom HTML5 websites come with no limitations, and no two websites look the same. The website is built for your brand, vision, and needs, and only yours.
With customized websites, there is no theme. Every single website is different, custom-tailored to the specifications of your needs and your brand. Customized websites come with no limitations, and no two websites look the same. The website is built for your brand, vision, and needs, and only yours.
Think of Amazon, Etsy, and eBay. Obviously, they all have customized websites tailored to their brand and the services they offer. Imagine if all three of these websites looked pretty much the same. Not only would their websites be less functional (because every business's needs are different), but they would blend right in with all the others- so why would you remember their brand or return to their services?
No matter the size of your company or what type of services you offer, you want your customers to develop a personal relationship with your brand, which means you need to be more than just cookie-cutter. You need to stand out from the competition. This brings us to our next big point.
Stay updated with the Jonroc newsletter.
You'll actually want to read this one.

Credibility
Is 94% determined by web design aesthetics
5% of consumers admit to making judgments on a company's credibility based on the company's website design. 4
46% of consumers say website design is the single most important factor when determining a website's credibility.5
In this vast cyberspace crowded with competing services- not all of them legitimate- it's more important than ever to appear trustworthy. You want to project credibility, expertise, and character.
If you ran your business from an old, run-down storefront with complicated doors, mismatched product labels, and extremely slow customer service, it wouldn't matter how great your products are. You'd lose business, because it's inconvenient for the customer to use your services, and that makes them trust you less. A website is the same way.
Since users are making judgments about the credibility of your website in less than a second, first impressions matter- a lot. Most of these impressions have nothing to do with content- and everything to do with web design.
Most first impressions have nothing to do with content- and everything to do with web design.
In 2004, four researchers at Northumbria University decided to figure out why we love some websites and can't stand others. The researchers conducted a study of 15 women, all of whom were searching for information on the internet. Some of the information they found they trusted. Some of it they did not.
Interestingly, it was trust, not content that had everything to do with credibility. So why did these subjects trust some websites, returning to them again and again for information and products, and not others?
The most surprising revelation was that trust has almost nothing to do with a website's content, and everything to do with its design. When asked to describe why they trusted or didn't trust a website, 94 percent of respondents cited issues directly related to web design.6


Speed
Equals Revenue
Most cookie-cutter templates (from website builders to CMSs) come with lots of built-in functionality. This is so these platforms can serve as many users as possible, targeting the broadest possible array of customers.
Every website created with these platforms comes with all this built-in functionality- whether or not your website needs it.
This bloatware, as it's commonly called, affects the technical structure of the site itself, meaning your website takes longer to load. (Which can means you are losing customers, revenue, and growth.)
Imagine a customer is trying to access your website via a weak network- or even a strong network, but they're used to faster websites. If your site is weighed down with bloatware and is even slightly slow to load, the user (and even you yourself) would likely click away, hit back, and choose a more responsive website.
Websites that load within 5 seconds earn nearly twice as much revenue.
Considering more users than ever access your site on mobile devices using broadband, these precious milliseconds of loading time matter more than ever. It's such a critical issue that Google published a white paper on how slow websites cost publishers.
According to the white paper, Google found that 53% of mobile site visitors leave a website if it takes longer than 3 seconds to load.7
The study also noted:
Publishers whose sites loaded within 5 seconds earned nearly twice as much ad revenue than sites loading within 19 seconds. (DoubleClick)
After reducing page load time by half, companies saw a 12-13% increase in sales. (AutoAnything)
Every additional second it took a website to load, companies lost an additional 10% of users. (BBC)
SEO
Help your customers find you
All of these benefits of a custom-designed website- strong brand identity, consumer relationships, and responsive speed- compound to create even more benefits. Among these benefits is a nearly-effortless boost in SEO.
Custom-designed websites are crafted to engage your specific brand's visitors in valuable ways right from the start. Your website is tailored to your customer's needs, designed to showcase what you have to offer with ease and make it accessible to visitors. This leads to quality user experiences (that credibility from #2), which leads to higher conversions, more referrals, and recurring visits- all of which tells search engines that your site is a trustworthy source, increasing your ranking in search results.
Custom-designed websites come with a nearly-effortless boost in SEO.
Design factors in web development like HTML, Javascript, and CSS structures influence your SEO too. If your website's architecture isn't intuitive or efficient, high bounce rates will tell search engines that your site isn't user-friendly. Your site may have applied some SEO, but that does not mean it's optimized. When your website is custom-tailored for SEO to seamlessly guide your user's experience, that pays off in a big way.
SEO web design also increases your website's organic search traffic. With quality user experiences, efficient site architecture, proper back end meta tags, intuitive site navigation, and low bounce rates, you don't need to work as hard to keep users coming back. An optimized website with clearly streamlined paths for user action will increase your conversion rate substantially- so you pay less for sponsored ads and boosted social media posts with minimal results. You don't need to sweat so hard to get those engagements: your website is designed to literally make it easier for you and consistently help you make money, with minimal maintenance each month.

It's Optimized for your Business
Because no one does what you do quite like you do it
Building a website shouldn't be a point and click marketing task. The single most important reason to custom-build your website is so you can optimize it efficiently for what your business does. Rather than modifying preconfigured site elements and themes, you can build what you need right from the start.
Think of the websites you visit most frequently. Chances are, they're custom-designed. That's not just because those websites are probably run by large corporations- it's because their websites are tailored to suit their services and business needs- not the other way around.
So as a business owner, how are you going to carve out your space on the internet, and how are you going to make that first, and critical impression on your next potential client?
Your customer's journey, your brand's values, your business' goals – these things are unique to you and only you. And there's no cookie-cutter template for that.